Doctors & Staff
Meet the experienced and friendly doctors and staff who make Downey Eye Clinic the leading provider of vision care products and services in Columbia.
---
Dr. Jacob Burton
Dr. Burton is a comprehensive optometrist who specializes in primary vision care, contact lens fittings, problem-focused eye examinations, pediatric eye care, urgent eye care, and pre- and post-operative eye care. He is also credentialed in expanded therapeutic procedures that allow him to perform certain laser procedures in the office as needed.
As an Adair County native, Jacob attended and graduated from the Adair County School system in 2004. He then obtained his Bachelor of Science Degree in Biology from the University of Kentucky in 2008 and his Doctorate of Optometry from Indiana University in 2012. Upon graduating from IU he returned home and joined Downey Eye Clinic in Columbia, where he currently resides with his wife, Malory Burton, and their two children, Knox and Nora.
Dr. Burton is licensed for the practice of optometry by the state examining board of Kentucky. He is a member of the Kentucky Optometric Association, the American Optometric Association, and currently serves on the Board of Health for Adair County.
---
Dr. Max Downey
Hi, Dr. Downey here, welcome to our office.
Downey Eye Clinic was born September 10, 1981. It began as a solo practice and evolved over the years as not only respected for the eyeglasses and contact lens prescriptions, but as a very busy medical optometric office.
My undergraduate degree from Western Kentucky University was Biology and Biophysics. My graduate degree is from Southern College of Optometry in Memphis, Tennessee. My complete tenure of practice has been here in Columbia, Kentucky where my three children and one stepson have blessed me and my wife Patricia of 25 years with 12 grandchildren.
I have been associated with many service clubs and served in administration roll with many of them. My most current privilege is serving as the current president of the Kentucky Optometric Association which for me is a wonderful accomplishment.
Provided you need quality care to fix a complaint or to determine if a problem exists, I invite you to contact the office for an appointment and I will be most pleased to accommodate your needs.
---
Dr. Sarai Williams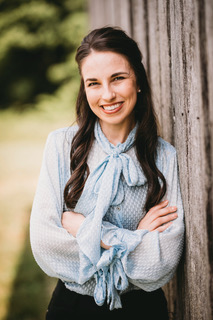 Dr. Sarai Williams joined Downey Eye Clinic in 2019. She received her undergraduate degree from the University of Kentucky in 2015 with a Bachelor of Science in Agricultural Biotechnology. She graduated summa cum laude from Southern College of Optometry in Memphis, TN where she was also inducted into the Gold Key and Beta Sigma Kappa honor societies—the highest honors bestowed to a student.
Originally from Casey County, Dr. Williams is excited to serve the eye care and vision needs of rural Kentucky. She currently resides in Liberty, KY with her husband, Jordan, and their Goldendoodle, Memphis.
Dr. Williams is a member of both the American Optometric Association and the Kentucky Optometric Association.